Use of Excessive Force by Police
During the course of an arrest, a police officer may overstep the bounds of acceptable behavior and use excessive force.
Generally, excessive force is considered anything beyond what is reasonably necessary to arrest someone. While tasers and batons are tools law enforcement may use during the course of an arrest, officers must have sufficient reason to use their weapons, such as if an individual is resisting arrest or poses a threat to officers or the public.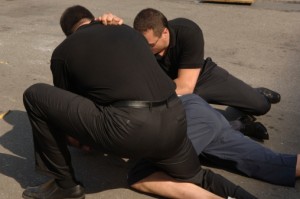 Since there is no specific definition of what constitutes use of excessive force by a police officer and there is a tight statute of limitations to file a claim, it is important to contact an attorney to investigate the circumstances of your arrest as soon as possible.
Contact Police Misconduct Lawyer Dan Baca for Help in New Mexico
If you believe you have been the victim of excessive force, you may have both a personal injury claim and a civil rights claim to file against the offending officer. Attorney Dan Baca can help you pursue such claims as he seeks to hold law enforcement officers and government agencies accountable for their actions.
Dan Baca is an Albuquerque attorney with over 20 years of experience. Contact him today to schedule your free consultation.
Know Your Rights!
Call police misconduct lawyer Dan Baca in Albuquerque, NM for a FREE consultation
505-842-8020
¡Conozca Sus Derechos!
Mi personal y yo hablamos español asi que no necesitamos de interpretes para ayudar a los clients que no hablan ingles.