Aggravated Assault with a Deadly Weapon
Criminal Defense in Albuquerque, NM
Simple assault may be a petty misdemeanor, but when threats are delivered with a deadly weapon in hand, charges are immediately escalated to felony aggravated assault.
Even if a deadly weapon was not brandished while delivering a threat, aggravated assault charges may result if a concealed firearm was found on your person without a concealed carry permit.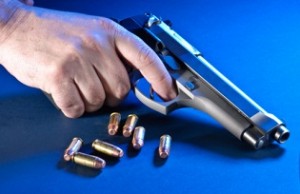 Aggravated Assault Felony Classifications and Penalties
Aggravated assault charges are generally classified as 3rd or 4th degree felonies. Penalties may include prison sentences up to three years and up to $5,000 in fines depending on your unique circumstances. Aggravated assault against a household member (i.e., domestic violence charges) may also result in mandatory registration with the National Registry of Domestic Violence Abusers.
Contact Experienced Albuquerque Assault Defense Lawyer Dan Baca
Felony aggravated assault convictions are permanent—they cannot be expunged from your record and may limit employment opportunities. To protect your personal and professional future, you need the help of an experienced New Mexico assault lawyer.
Dan Baca is an Albuquerque criminal defense attorney with over 20 years of experience. He is committed to protecting your rights and preserving your liberty as he seeks to obtain the best outcome possible. Contact Dan Baca today to schedule a free consultation.
Know Your Rights!
Call Aggravated Assault Lawyer Dan Baca in Albuquerque, NM for a FREE consultation
505-842-8020
¡Conozca Sus Derechos!
Mi personal y yo hablamos español asi que no necesitamos de interpretes para ayudar a los clientes
que no hablan ingles.